Central Heating System Types
Which Heating and Hot Water system is right for me?
We understand that this can be very confusing!  Below are examples of the main types of heating and hot water systems, how they work, advantages and disadvantages and what kind of home they are best suited to which we hope will be helpful. Whether you presently use gas, LPG or oil selecting a new boiler is a big decision.
Before fitting a new boiler into your existing system we need to review the existing system to check the condition of existing pipe work and radiators as this could cause damage to your new boiler. No two installations are the same and we can provide you with impartial expert advice and a free quote.
Combi Boiler Heating System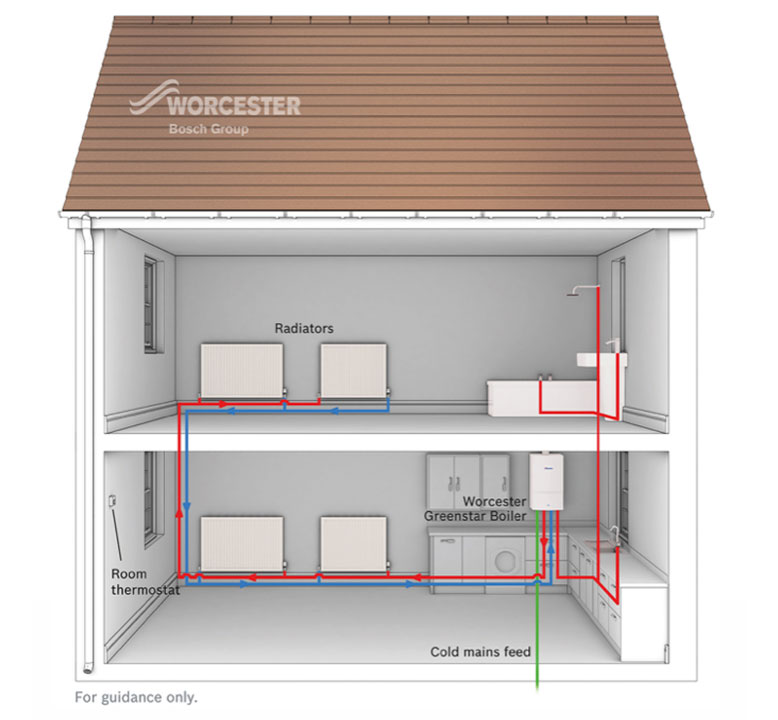 Gas Combi Boiler Diagram
A combination boiler more commonly know as a combi boiler is a high efficiency water heater and a central heating boiler in a single compact unit. Combi boilers heat water direct from the mains when you turn on a hot water tap. This makes them very cost effective as water is heated instantly rather than being heated and stored in a cylinder. This means that you do not need a hot water cylinder or cold water header tanks in the loft / roof space.
Hot water is delivered to your tap at mains pressure which means that you do not need a booster pump to have a powerful shower.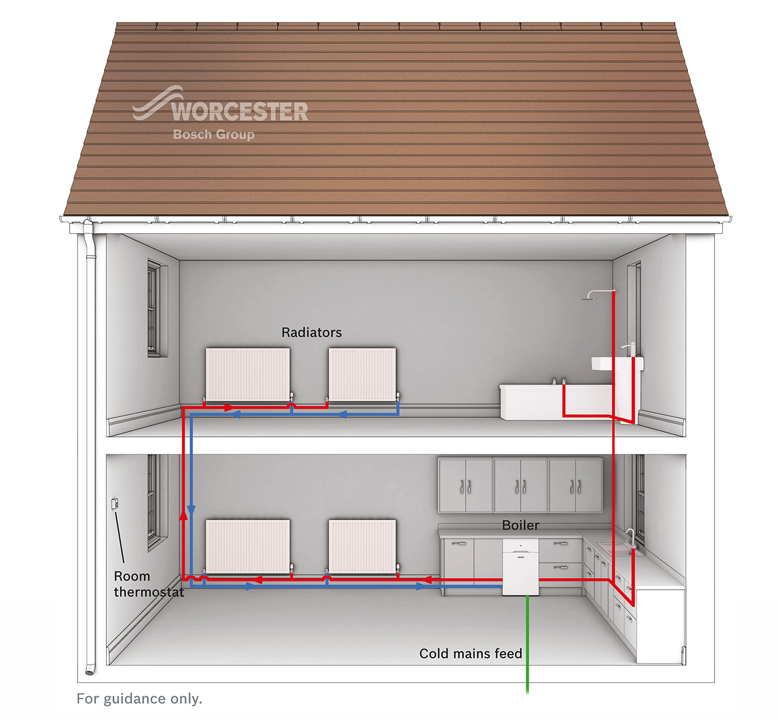 Oil Combi Boiler Diagram
Ideal solution where there is little or no loft space
No hot water cylinder needed
No cold water header tanks so frees up the loft space for storage or conversion
No more frozen loft pipes
Reduces the amount of pipe work so cheaper installation cost
Oil boilers come as an external option to save space
System Boiler Heating System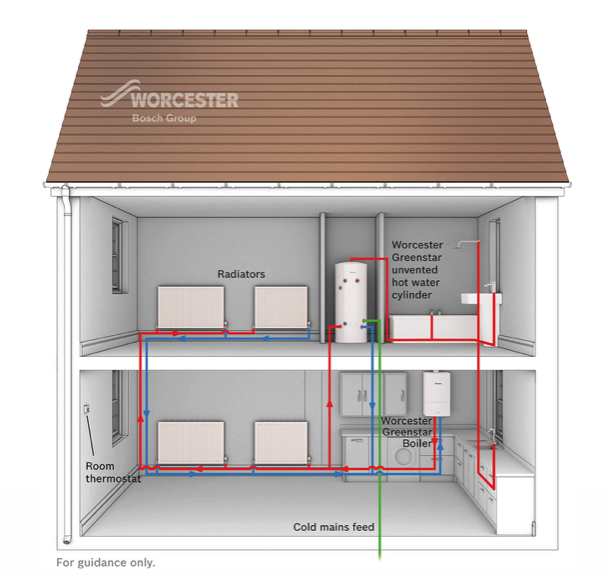 Gas System Boiler Diagram
A system boiler installation requires a hot water cylinder, however the major heating and hot water components are housed in the boiler making it quicker and easier to install. There is the added benefit of no tank in the loft so this system can be used in a home with little or no loft space or leave the loft available for conversion.
By fitting the correct cylinder these systems can be compatible with solar water heating systems which deliver environmental benefits as well as reduced energy costs.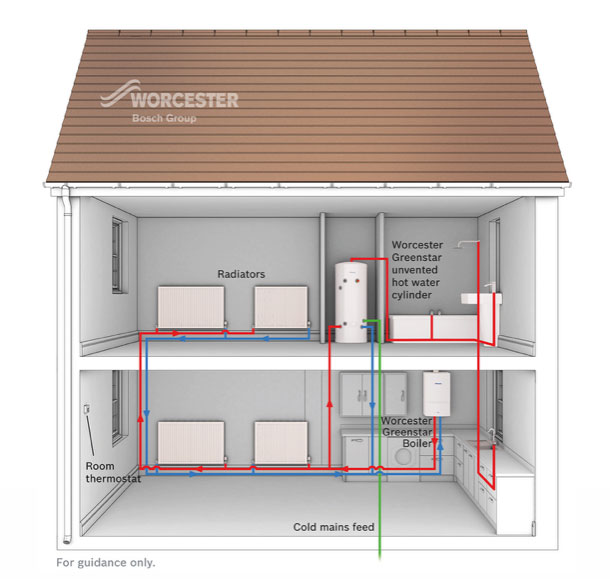 Oil System Boiler Diagram
Ideal for homes with more than one bathroom
Constant supply of hot water to any number of taps at the same time
No need for tanks in the loft, freeing up space and eliminating the risk of frozen loft pipes.
Economical to run
Built-in components makes installation quicker and neater.
Oil boiler come as an external option to save space
Regular Boiler Heating System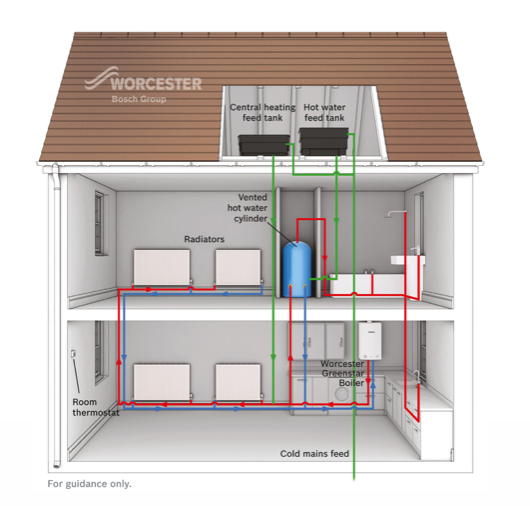 Gas Regular Boiler Diagram
Regular boilers (commonly known as heat only, traditional, or conventional boilers) are ideal for homes that already have a traditional heating and hot water system which is linked to a separate hot water cylinder. These boilers require a cold water storage tank in the loft to feed the hot water cylinder as well as a smaller tank that maintains the water level in the central heating system.
A regular boiler could be the best option for replacing an existing boiler if the property has an older radiator system which may not be able to cope with the higher water pressure when a system or combi boiler is used.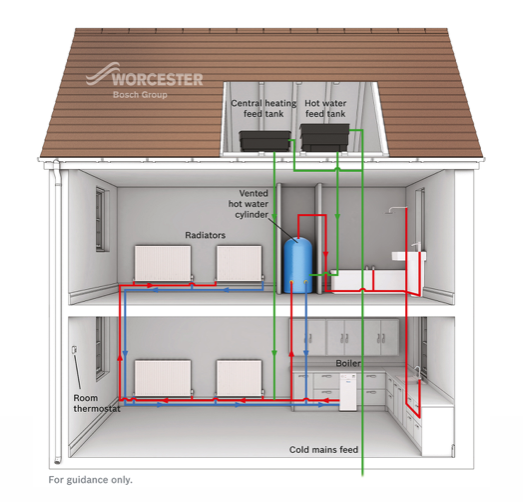 Oil Regular Boiler Diagram
Good choice if a simple boiler replacement is required
Good option in properties with low water pressure
Perfect for homes where a lot of hot water is used at the same time
Ideal for properties with two or more bathrooms
Compatible with solar water heating systems for reduce energy costs and carbon footprint.
Oil boiler comes with an external option to save space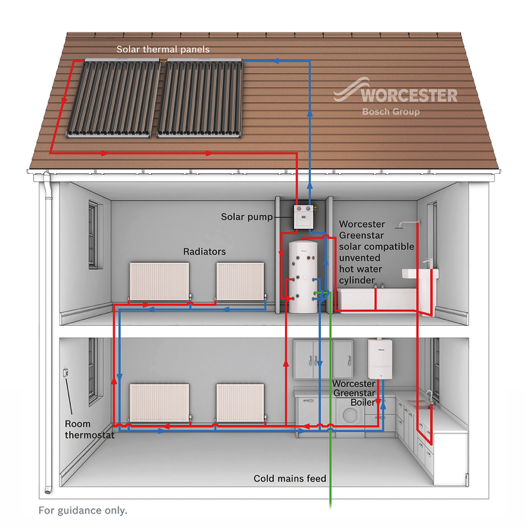 Gas Solar Thermal Boiler Diagram
Contrary to popular belief the amount of solar radiation received across the UK makes our country ideally suited to delivering a highly efficient solar water heating system. Solar hot water systems (or Solar Thermal) are a renewable energy source that harnesses heat from the sunlight by capturing energy which is radiated by the sun within the solar panels located on the roof.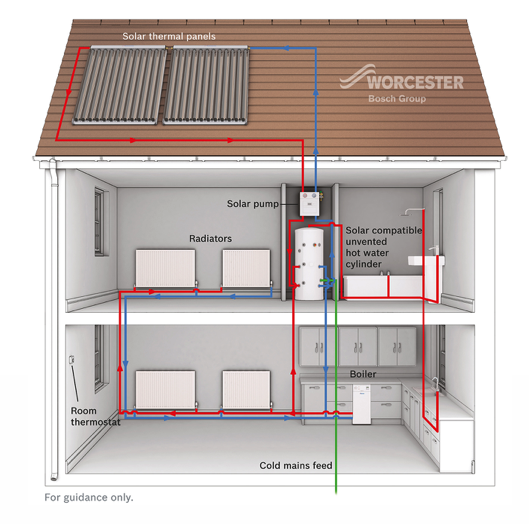 Oil Solar Thermal Boiler Diagram
Renewable energy source
Reduce energy costs
Compatible with either a current gas or oil fired regular or system boiler, or heat pump.