Oil System Boilers
Greenstar Danesmoor system boilers are known for their high quality and reliability, making them robust enough to stand up to the highest of heating and hot water demands.
They are highly efficient and economical to run, Worcester system boilers incorporate many of the heating and hot water components found in a traditional heating system, making installation less disruptive and neater.
Space saving and attractive – The market leading compact dimensions of Greenstar Danesmoor System boilers means that they can fit perfectly into many locations, with a choice of kitchen, utility and external models allowing your boiler to be installed in a location that suits your lifestyle and property.
Greenstar Danesmoor System boilers can be used with an optional control to maximise comfort and energy savings, and are also perfectly matched to the comprehensive range of Greenstore hot water cylinders. Choosing a complete Worcester system will ensure you will have a highly efficient solution and give you the opportunity to get a comprehensive 5 year guarantee across your entire system*.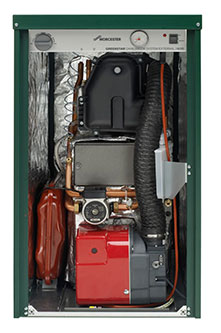 Oil Combi Boilers
Combi boilers are the most popular heating and hot water solution in the UK. Over 15 million have been fitted across the country and they are now the preferred choice for most householders and installers. Worcester pioneered the combi boiler in the UK, with the Greenstar range developed to suit virtually all homes.
All Worcester Greenstar oil combi boilers are designed and manufactured to provide high levels of performance and operating efficiency. This is achieved through features such as the 'keep hot' facility (which ensures hot water is almost instantly available) and the Heatslave II's in-built thermal store which enables the boiler to provide instant hot water for prolonged periods.
What is a thermal store?
A thermal store is a small tank integrated in the Greenstar Heatslave II combi, with the store containing the same water that is found in your radiators. By storing heat within the hot water store, the Heatslave II can instantly heat (via a heat exchanger) the cold water that enters the boiler and then passes to your hot tap or shower, increasing your hot water comfort.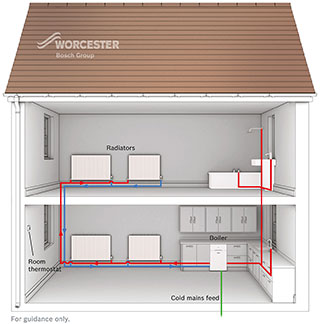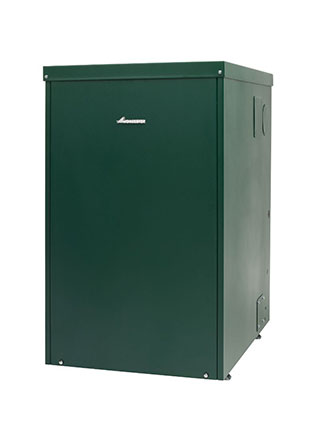 Oil Regular Boilers
With quality and reliability at the heart of every Worcester regular boiler, they are robust enough to deliver efficient heating and hot water year after year.
Modern efficiencies and choice – With over 90% efficiency, Greenstar regular boilers will help reduce your energy bills and your carbon footprint. They can enhance heating and hot water performance in all sizes of homes, including those with two or more bathrooms, and where mains water pressure is low. For added choice Greenstar regular boilers come in a wide range of models. They are also designed to be installed in a range of indoor and outdoor locations and are suited to a variety of heating requirements.
Solar-compatible – All of Worcester's oil-fired regular boilers are compatible with our Greenskies solar hot water systems, which can help you to reduce your energy bills whilst also benefitting the environment.